Judith Kaltenböck,
Gold Bonnet (Grandmother's Legacy)

, 2004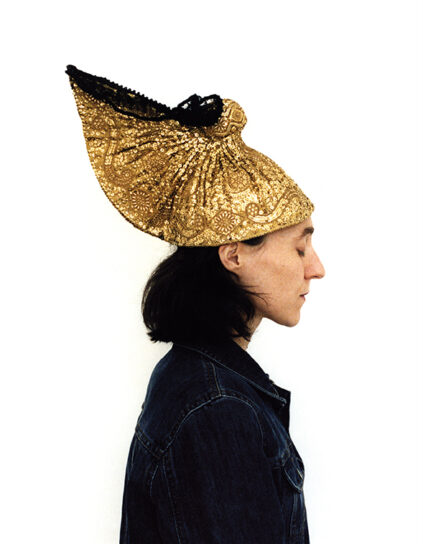 C‑Print, 260 x 205cm
Collection Nordico Museum Linz, Inv. Nr. D 234/2

Gold Bonnets come in a wide variety of regional designs, a very special one being the Linzer Gold Bonnet, most popular between 1805 and 1830. This headdress was worn by women of all social classes: a fashionable hat that was presented on Sundays as well as on weekdays. In 1840, the headscarf began to replace the gold bonnet. After the Second World War, the gold bonnet was revived. To this day, it stands for middle-class affluence, is worn above all in Upper Austria and illustrates lived tradition and social commitment.
A self-portrait of the artist in jeans jacket and gold bonnet: the artist poses in all four directions, with closed and with open eyes. Looking into the past, into the future, lingering for a moment in the present: mass-produced versus time-consuming handicraft, combined with a wistful memory of her grandmother.